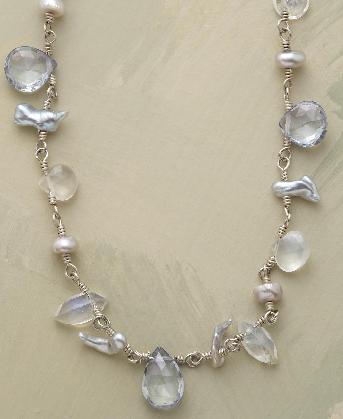 Just as I was sitting down to lunch today, the postal carrier brought our mail, which included a Sundance catalog filled with awesome jewelry, like this necklace designed by Dana Kellin. It's made of white labradorite, rainbow moonstone, pale gray quartz, and iridescent cultured pearls. Of course, while I always love 99.9% of the jewelry I see in this catalog, especially because so much of it very dainty and wearable which is totally my taste, I am just like most crafters when I look at catalogs like this because I know that I can make a good portion of what I see in between its pages. In fact, many of the same techniques in this necklace, such as wire wrapped loops, are staple techniques of mine.
I'm not saying I invented these techniques, but I'm amazed (and a tad jealous) that someone has managed to use them and sell high-end artesian jewelry through an outlet like Sundance. I know, too, that I am one of a zillion jewelry designers who would like to be able to do the same, and so with this idea a number of months ago, I actually contacted one of its buyers and asked for an interview via email. At first, I was told yes, and she would "get back with me." Of course, she didn't, so I emailed her again and was told that she was busy but still interested. Finally, she just stopped answering my emails all together.
Can you tell I'm very disappointed and even a little miffed? Why did she go back on her promise? I'm not sure. Maybe she really is too busy to answer a few questions from a little jewelry designer/writer. Maybe she realized that she would be inundated with jewelry designers once I published the interview. But, I'm the type of person that when I say I'll do something, I'll do it, so I just don't get this kind of reaction, humf!