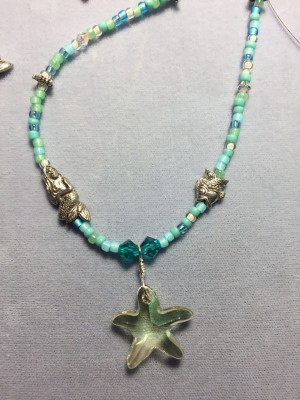 If you have caught any of my crafting video podcasts over the past few months, then you already know that I will be taking a cruise this summer with my mother and two sisters. I'm not a big fan of cruises, but we have been trying to have a girls' trip for awhile, and it was really difficult to find a time and place that worked with everyone. As a way to make this a little more fun than last time, I am totally crafting before and during the trip.
To start the crafting off, I decided we all needed necklaces to commemorate the trip. I've made two, and my sister (who is also a crafter) will be making the other two. Pictured is the one I made for myself. The other one I made is very similar, just longer per my sister's request. After showing this off on Facebook and Instagram, I had a lot of positive response, so here are the supplies and basic "recipe" you need to make one of your own.
I purchased these supplies from Artbeads.com:
1-20mm Swarovski crystal starfish in luminous green
1 tube of Seabreeze 8/0 Designer Seed Bead Blend
1 loop 19.5×15.5mm, bar 26mm antique pewter twisted design toggle clasp
I purchased these supplies from Dragyn's Fyre:
1 lead free pewter mermaid bead
1 lead free fish bead
4-5 lead free star spacer beads
I had these supplies already:
2 silver bead tips
20-24 inches of .014 beading wire
20-gauge soft silver-plated wire (used to add a bail to the starfish)
2-6mm turquoise colored Swarovski crystal beads
2 to 5- 4mm and 6mm clear Swarovski crystal beads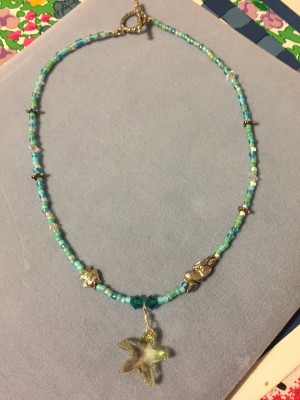 You will need the following tools:
round-nose pliers
wire cutters
chain and/or bent-nose pliers
Here is the basic recipe for assembling the necklace:
Use the silver-plated wire to make a bail on the starfish. Add a bead tip to one end of the beading wire before you start stringing. When you are finished stringing all the beads, secure the other end with the other bead tip. Attach the toggle clasp when you are done.
As you can see from the photographs, the beads are not really symmetrical except for the few in the center that anchor the starfish in the center of the necklace. You just string these on however you please. When you start to get the center, you will want to add the mermaid or fish so that one is on either side of the starfish. One item to keep in mind is that if you put the mermaid or fish beads further up the strap of the necklace, you won't really be able to see them that well. That is why I positioned them in the center.
For detailed instructions on jewelry techniques such as how to attach bead tips, head over to the site I used to write for, About.com Jewelry Making. I have tons of helpful content that is still over there.