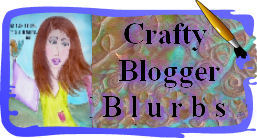 Thanks to some of our talented craft bloggers, I have some new logos to pick from for my weekly round-up of blog links. This one was created by Aileen Roberts. It's hard to decide which one to use, so I think I'll use them both for this first "new logo" post, one at the top and one at the bottom of the list.
Margot Potter created the other logo, and what I think is very cool about them both is the fact that they are so completely different. In today's world, being different is not usually considered a good thing; however, for artists and crafts-people, it is encouraged. Yeah! Thank goodness there are places for people like us to be accepted for who we are. Now onto some great links on Halloween, this last day of October. I hope you all have a spoo-tacular day! Boo!
About Family Crafts
Sherri offers several ideas for creatively displaying your child's artwork.
Aileen's Musings
Aileen has an autumn themed digital piece she's created along with a link to freebie images for you to create your own work of art. Enjoy!
Cathie Filian
Win a copy of Bow WOW WOW! and a $100 worth of craft supplies from Plaid – 1 grand prize and 24 other prizes!
Craftside- A behind-the-scenes peek at a crafty world
Craftside has goulish wet felted eyeballs, a crocheted spider web sweater project, crafting with the Chrome Cowgirl, and announcing Quarry Publishing is sponsoring this year's Holiday Felt Club in Los Angeles with special appearances, signings and make & takes with authors, Angela Cartwright, The Crafty Chica, Lisa Sonora Beam and Stefanie Girard.
Crafty Princess Diaries
You can make any of these super quick jewelry projects just in time for Halloween, seriously, this Halloween! Otherwise, hit the bargain bins at your craft store for the after Halloween sales so you are prepared for next year!
Cross Stitch at About.com
Check out the latest additions to the Stitcher's Photo Album – We've reached a milestone. The first page is now devoted to submitted photos of the free patterns from About.com Cross Stitch.
Layers Upon Layers
Artist Kerry Wilkinson plays with resin in a big way!
Stefanie Girard's Sweater Surgery
See how I cut out a cool part of a pattern from The Crochet Dude's hot new book to crochet a two colored headband.
The Impatient Crafter™
Join Madge for part two of her gothically delicious free Halloween project. The Invitation.