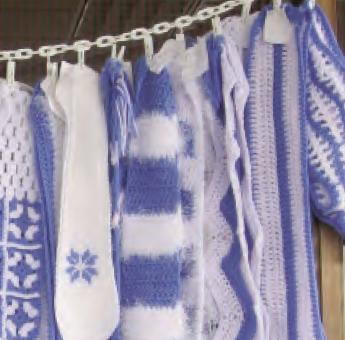 Red Heart and Coats and Clark are helping to get the word out about the Special Olympics Scarf Project:
Athletes at the 2009 Special Olympics World Winter Games in Idaho will be wrapped in a little handmade love, courtesy of knitters and crocheters across the country. Coats & Clark is sponsoring a project to provide each athlete with a scarf created in white and delft blue Red Heart® Super Saver® yarns.
The World Winter Games aim to give a scarf to each athlete, the delegates supporting them and various dignitaries who will be visiting the Games—and they need help to meet that mark. This is where Coats & Clark comes into the picture.
"We're thrilled to sponsor this project. Our goal is to see 5,000 scarves donated. It's a big number, but I'm confident we can do it," says Vicki Blizzard, media relations and special promotions director for Coats & Clark. "Knitters and crocheters are dedicated and generous and are known for rising to this type of challenge."
No special patterns or skills are required to create a scarf. Beginners, schools, scout troops and other local groups are actively encouraged to participate. "Our only rule," says Blizzard, "is that the scarves are knitted or crocheted by hand using delft blue (885) and white (311) Red Heart Super Saver yarn, because these colors perfectly match the Special Olympics logo and were chosen specifically by the World Winter Games organizers."
Coats is providing a knitted pattern and a crochet pattern but any pattern from basic stitches to complicated colorwork and stitch patterns may be used. Personal notes from knitters and crocheters who want to send their best wishes to the athletes are encouraged and should be firmly attached to the scarves, which will be handed out before the Opening Ceremony.
Special Olympic Scarves pattern
Completed scarves must arrive by January 15, 2009, and should be sent to:
2009 Special Olympics World Winter Games Scarf Project
3150 West Main Street
Boise, Idaho 83702