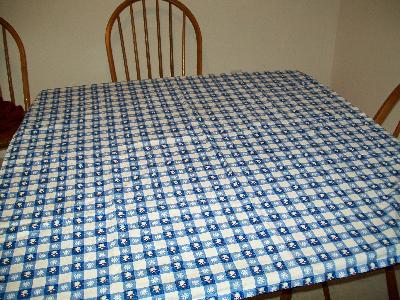 Though it's raining today in sunny South Florida, we manged to get our Christmas tree, which is now dripping wet in the living room, ugh! The introduction of the tree means I will slowly start pulling out the odd assortment of Christmas decorations we have, most of which will go on the tree but some of which will be scattered around the house, including the kitchen. Today I put away the pumpkin table cloth and pulled out the snowman table cloth, both past presents from my big sis. A few years ago, she made me three table clothes for my kitchen table, one with snowmen, one with pumpkins, and another with watermelons on it, and I still love all three and use them all the time.
Her idea is simple and genius: purchase a large square of fabric in seasonal print and hem the edges. Voila! You have an instant table cloth. Even if you can't stitch a straight line or don't even own a machine, you could use fusable webbing or fabric glue to faux-hem the edges of the fabric and get the same results.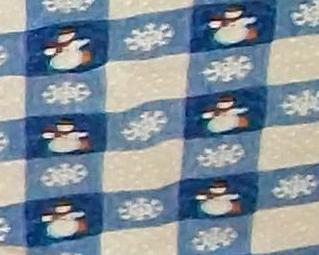 Now I just have to pull out my snowmen place-mates, add a centerpiece decoration, and my table is ready for Santa.