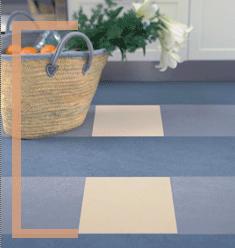 We have a major home improvement project going on. What we call "the dog room" aka family room is having a floor to wall make-over including paint, new flooring, new furniture, new TV, and entertainment center. It has been a long, long time coming since we have lived in this house for 10 years and have barely done a thing to it, at least on the inside. I say "we," but really, my DH is doing most of the work when it comes to muscle since (a) he is Mr. Perfection and so gets really bossy when it comes to projects like this (b) I am very wimpy and after rolling a paint brush about three times I'm ready to take a nap.
Right now, we are in the painting stages and have decided to be daring with bright colors in the turquoise family. Next is flooring and because this is a room that gets tons of traffic – many of them of the four legged, 100 pound variety – we are pretty sure we are going to go with a material called marmoleum from Forbo. I am leaning towards a dark brown to contrast the bright walls and hide as much dirt as all those feet track in as possible. The room is huge, 24×18′ so I know we are going to probably pass out when we get the bill for the floor, but the old floor (a faux parkay vinyl) is literally disintegrating. I'm not a big fan of ceramic tile, especially for a room that size. It's too cold and hard on the feet (and we tend to go bare foot a lot around here). Wood I worry about scratching from dog nails and water issues since the room opens up onto a screen porch. So, I heard about marmoleum, and the more I read about it the more I like it:
Life-cycle analysis shows that our linoleum products are the ecologically preferred floor covering. Linoleum is produced from renewable materials: linseed oil, rosins, wood flour, jute and ecologically responsible pigments. These materials underlie the charm that gives each design its inimitable, distinguished look.
I'll keep you posted on how things are progressing. Right now, there are a few walls paints as well as some trim work. The thing with this type of project that I find a little overwhelming are all of the decisions that have to be made and running around to stores that has to been done, which I sure don't have time or patience for. But, hopefully it will look fabulous in a few months, and after 10 years, we sure deserve to have a fabulous room to chill with the dogs and watch TV.