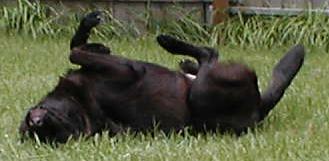 Normally, I like to keep things fairly light around here, and of course, write about crafts, but after seeing the one-zillionth commercial last night about the new movie coming out this Christmas called Marley & Me, as a dog lover, I feel compelled to blog about it. This movie, starring Jennifer Aniston and Owen Wilson, is based on the book by the same title, and I read it a few years ago when I was working in the local library. It was a very popular book and had a picture on the front of an adorable lab, so I was suckered in. At first, I found it pretty funny because I also have had a few lab or lab mixes over the years as pets (Rocky-BooBoo is showing his stuff off at the top of this blog post in fact), and while they are the most loving dogs ever created, they are probably one of the most difficult to train as well.
The more I read, the less I laughed and the more I cried. The characters, which are supposedly based on a real life experience of the author, were not just stupid but actually cruel to Marley. In one scene, the wife is dealing with postpartum depression. The husband comes home to find her freaking out and literally beating the dog with her fists. Other scenes have them closing him up for hours in a garage all alone, only later to find something he's destroyed because he is scared to be alone in the garage during a thunderstorm. (This takes place in Florida, so hello! We have a lot of storms down here folks!)
How is any of this funny? Who would want to see a movie like this, let alone put money in the pocket of the person who abused this dog and the Hollywood industry that wants to also make a buck off of it?
Finally, to top it off, the story ends when the family, now with the addition of children, decides that they want to go to Disney on a family vacation, but then there's the dog who is now old and ill. What are they to do? Well, of course, they decide to put the dog down so they can go see Mickey Mouse, makes perfect sense to these cold and horrible people.
Other than the fact that this story is sick, my real concern is the many people who may watch the movie and think, "He is so cute. We should get a dog!" Considering this book was a best seller and now turned into a major motion picture, obviously a majority of people think the treatment of this dog was okay, that pets are throw-away objects to be discarded when we tire of them or find them inconvenient. By releasing this movie during the holiday season, this could very well mean more incompetent, cruel people might decide to buy that little puppy with the red ribbon around its neck without realizing that puppies turn into full grown dogs in just a few years, and along the way that means lots of chewing, barking, barfing, peeing, and general destruction along with lots of unconditional, unquestioning love and loyalty.
Anyone who claims to be a dog lover, I merely asked that you boycott this movie and the book, which is now coming out in reprints. And if you know of anyone who is thinking about seeing the movie, feel free to pass along the URL to this post or better yet point them to the many bad reviews posted on Amazon.com from readers who felt exactly like I do.