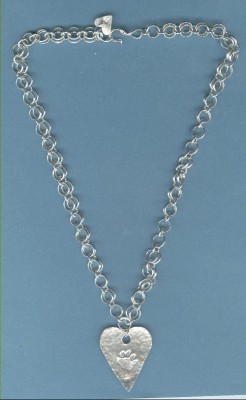 Finally, my husband and I got our act together and finished our collaborate jewelry piece, which I call the "I Heart Animals Necklace." I made the pendant out of metal clay. You can find a tutorial for it on my About.com Jewelry Making site, of course. My DH made the chain using sterling silver jump rings, a combination of twisted rings and doubled half-round wire rings, all of which he made and assembled into the approximately 18 inch chain. I made the hook (tutorial to come) using sterling half-hard round wire, and I also added a small metal clay heart charm and stamped a "P" for Powley on it as a way to add a signature to the piece.
To make a complete package, I put it in a velvet jewelry box (re-purposed from my mom who is a QVC jewelry fan) and also put together a one page flyer with information about how the piece was made, a few pictures of the process, and of course, a picture of our fabulous doggies who are Humane Society alumni.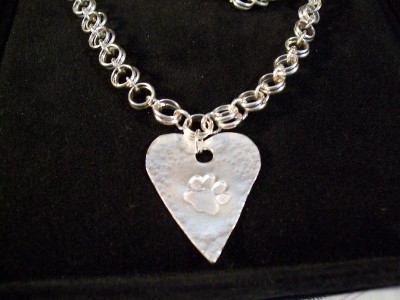 Hopefully, an animal and jewelry lover (or two or three or four) will bid on this puppy and make our local Humane Society some much needed mulla!