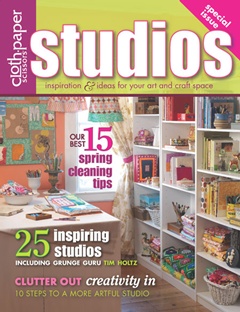 I just ordered this special issue from the Interweave magazine, Cloth Paper Scissors. According to the blurb on its web site, "Cloth Paper Scissors brings you a special issue dedicated to creating beautiful, inviting, unique, and functional studios for making collages, quilts, handmade books, and other types of fiber and mixed-media art."
Here is what looks like the Table of Contents for this issue, again from the web site:
CLUTTER OUT, CREATIVITY IN
With less stuff, you'll find more inspiration
By Lesley Riley
SPRING CLEANING Tips and products to give your studio a fresh look
FEATURED STUDIOS
Melissa Averinos
Margie Woods Brown
Tim Holtz
Tracie Lyn Huskamp
Yvonne Porcella
Helga Strauss
Carol Taylor
STUDIO VIGNETTES
Featuring the studios of 15 artists
STUDIO ART PROJECTS
Three beautiful ways to contain clutter
ROOM WITH A VIEW
Essay by Leilani Pierson
With shipping, it came to $13, so even if I get just a few good ideas, I think that's worth the price. It doesn't come out until Summer 2009, so that means it's pre-orders only right now. Considering the pace I'm at getting this studio in shape, I think I can wait.