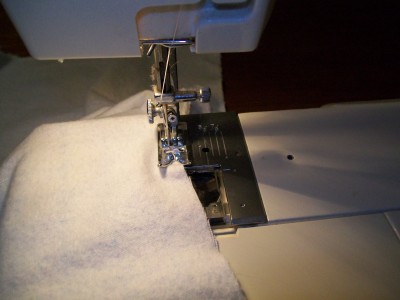 Yesterday I had a moment of insight after walking out of JoAnn's.
I was in the area and decided to pop in and pick up some fabric that was 50% off and also use my 40% off coupon for a new pair of sewing scissors for my mom who's having a birthday this month. I've learned now to always ask the cutter to double check the price on fabric before she cuts it because fabric bolts get moved by customers, and there often seems to be tiny print on the signs anyway about what is and what is not actually on sale. The place in general was pretty chaotic that day. The A/C wasn't working, the hand-held computers staff use weren't working, and there pretty much seemed to be no one with a clue working in the store in general.
With some extreme effort, I was finally assured that, yes, the fabric was 50% off, normally $12.99 a yard. So, I asked for two yards, got the rest of my items, and headed for the cash register. No big surprise, it did not ring up 50% off, so I had to go through the whole scenario again. Eventually, I got it for something like $15, which is not what it should have been (anyone with a pea brain would realize if I bought 2 yards at 50% off 12.99 a yard, then duh, that means I owed $12.99 for the material). However, for some reason, the girl checking me out had to use a calculator to figure out how to do this, and she still got it wrong. By this time, I was so hot and tired and cranky, I was ready to just leave without buying anything. I paid the extra just so I could leave.
So back to me walking out the door….As I did so, I thought, "I really need to find some good on-line sources for fabric."
Much like buying beads and other crafting items, shopping on-line is just not the same experience. It is so much easier to match fabric to threads and trims and other notions when it is all right in front of you. But I have to say that the more I shop on-line, the more I realize how much more pleasant it is than doing it in a brick and mortar store. Now I realize that the poor employees of this store were working in an oven, that when their computer equipment goes down they are basically lost, and that most of them are being paid minimum wage and are under 25, but this is just an extreme example of one experience that has repeated itself to me over and over again in this and many other stores, both craft and other shops as well. In fact, I don't blame the employees so much as I do the company. Why aren't staff treated better? Why aren't they educated and informed as they should be?
Customer service and knowledgeable staff seem impossible to have any more when it comes to a "real" store. Compare this to web sites like LLBean or Zappos. If you call these companies on the phone, you know what happens? You actually talk to a human. Some also have instant chat like Fire Mountain Gems & Beads and JJill.com.
Granted, you don't get the tactile part of shopping when you do it on-line, and you don't get that instant gratification of buying and receiving either; however, there is so much you don't get and don't want like long lines, clueless sales people, misplaced sales signs, and overly hot stores (I'm think Beall's now).
I'm sorry to see so many retail stores go. I know, now, how spoiled I was when there were numerous craft stores and fabric stores within reasonable driving distance. They had a great selection and normally had people working in them that actually sewed or crafted at least so you could ask them questions and they had a general understanding of the products they sold. But, that just doesn't seem to be possible any more. Why? I'm not sure, but I only see it getting worse, not better. My only hope now is to continue surfing and learning to shop better on-line.
Now I'm stepping off the soap box, but feel free to step up yourself: What are your thoughts on retail and the off-line world today? Have you experienced any of the same issues I have, if so where? Do you shop on-line at all? Where have you had good and/or bad on-line retail experiences?