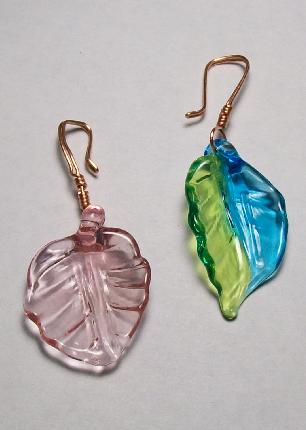 For the longest time, I have to admit to using a cheesy old paper clip as a stitch marker when I crochet. Very few of the projects I've done in the past have really required me to use one because I could usually figure out where I was by counting the rows. Now that I have discovered amigurumi, though, I've learned I really, really need to use stitch markers since this technique requires you to work in continuous rounds rather than connecting circles with a slip stitch like you would when making something like a hat. So the paper clip had to go!
I put my jewelry making hat on and created a few stitch markers that are much more attractive than a paper clip as well as highly functional! The gorgeous lampwork leaf beads dangling from them were made by glass artist D.D. Hess, and they have a good weight and shape to them, perfect for dangling from my yarn as I work.
I doubled the wire for a reason. This is version 3 of my stitch markers. With version 1, I just used a single thickness of wire and curled the end, but now and then the yarn would get stuck on the curled part of the wire. Version 2 was the same but without the curled part and I filed the end of the wire hook instead; It also had yarn sticking issues. However, I'm happy to say that by doubling the thickness of wire, I don't have any more sticking issues, and they work beautifully! The technique I used is very similar to my Double Wire Jewelry Hook, with the addition of wrapping the wire around itself to secure it and making a wrapped loop at the end to connect to the leaf bead.
To make these, besides the beautiful leaf bead, you just need about 5 inches of 21-gauge dead-soft copper wire, wire cutters, round-nosed pliers, and chain-nosed pliers.