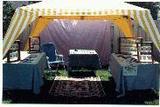 When I was busy with the local art and craft show circuit, one of the tasks involved that my husband (who used to come with me and help) and I got pretty good at was setting up our booth and breaking it down. I say "good" meaning we were very quick because we were always running late, and when it was time to go, we really wanted to go.
Now that I look back on it, I realize we probably could have created a much fancier set up, but time was also money, so it just didn't make sense to either of us to spend hours setting up when we knew that these small shows we were doing and the income we brought in from them just didn't justify all that extra time. Some shows we did very well at, of course, but still, when you add it all up – making all the jewelry, pricing it, tagging it, storing it, displaying it, traveling to the show, setting up, breaking down – well, let's just say you probably don't want to add it all up!
Trade shows are well above the little local craft show level, and that means more time and effort to set up your booth. In both cases, though, you are basically setting up a temporary shop in a way, so even if you want quick and speedy like we did, you still have to think things through. And with trade shows, you need to really create a professional image because you are selling to other professionals who will retail your products.
Pam Corwin, a professional crafter who also writes about the business of crafting, has an interesting video posted on her weblog documenting the work she typically puts into setting up a trade show booth. The video is only 4 minutes long, but it took her over 7 hours to create the finished booth. Wow! It's a lot to think about if you've considered taking a step towards some of the larger crafting outlets when it comes to selling your craft work.