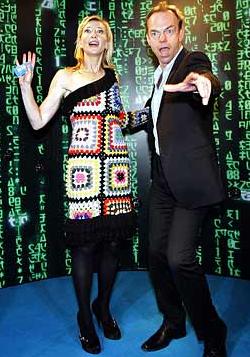 I had to share this funny fashion story about actress Cate Blanchett and the granny square dress, designed by Luke Sales and Anna Plunkett. Of course, did they actually make the dress? Nope. Guess who did. No, not the grandmother but close, it was Sales' mother who did the stitching.
Now, Cate Blanchett could look good in a potato sack, but I think this dress is kind of cool. I would have liked to see it in a lighter-weight yarn; though, I guess it's probably cold down under in Australia right now where this event was held.
So does it look like someone wrapped her up in an afghan or is this some kind of new fashion statement for the future?