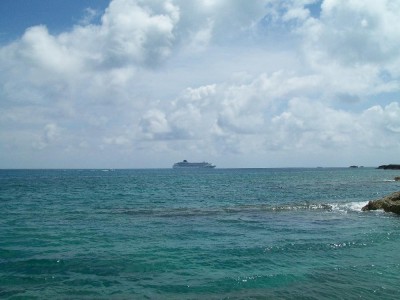 I'm back from the Bahamas and into the blogosphere again, yeah! Friday I left out of Port Canaveral, Florida for a short cruise to the Bahamas with my mother, who is a cruise-o-holic. We arrived in Nassau on Saturday, then hopped over to Royal Caribbean's Coco Cay island on Sunday, and came back home on Monday.
I'm not much of a traveler and had a feeling that cruising would not be my cup of tea but went for my mom's sake. My dad has gone on probably about half a dozen of them with her and is "over it." He describes cruises as watching the same movie over and over and over and over again. My sisters have too many familial responsibilities to just pick up and go, even though both of them would love to take a cruise. As a result, that left me since my summer vacation is so long and I have an understanding hubby who doesn't mind holding the fort down and taking care of all our furry babies for a few days.
Cruising is something that I suspected would not be a good fit for me, but I wanted to do this for my mom, and I think she enjoyed herself. Now before I get any lip about how I don't know any better, let me say that I really did give it a try. Some of it was fun, most though, well, I split it up into two lists:
Here's what I liked:
yoga on the beach (great workout & taught by a hunky Swedish dude)
great food (mainly during dinner, very gourmet type stuff, fabo service, and I did have wine, more each day in order to keep my sanity)
nice little gym & got to try out a treadmill for the first time, very cool, I so want one now
wonderful service & friendly/helpful ship's staff
shopping and buying lots of crap I don't need
beautiful weather, got a little coloring even though careful not to become a lobster
Here's what I didn't like:
waiting in line
living in a tiny box of a cabin
noise, noise, noise
waiting in line
zero privacy of any kind
hours of boredom because most of the ship's activities (karaoke, bingo, name that tune, disco night, napkin folding) are stupid
fighting off photographers (If you fart, there is someone there with a camera begging to take your picture. This started before we even stepped one foot on the boat.)
drunk rude passengers
drunk nice passengers
walking up stairs because there are too many drunk people crammed in too few elevators
oh, waiting in line, did I mention that?
Seriously, I could see how this would be fun for some people and maybe for me if I had something to occupy my time that I enjoyed doing. For example, if I were on a craft cruise where we all made jewelry or crocheted or had yoga classes or did something other than drink and play idiotic games that are only fun if you are totally drunk. I did bring a book and some magazines, but with all the racket going on it was difficult to get much reading done. I really should have brought a crochet project.
This would be a good trip for large groups (families, drinking buddies, clubs, or sex in the city type of girl-friends) or for couples. Otherwise, I found it really boring. I do think my mom had a good time, so that is what is most important. Now, I just have to work on getting one of my sisters to go next because I've done my daughterly duty. I'm ova it.