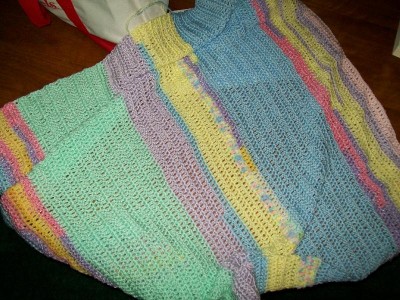 This is my latest crochet project, another blanket for my dogs. This is actually crocheted blanket number 3 for them. The first one has a few bites in it, but otherwise, has managed to survive. The second one was demolished in about a week.
I wondered why one seemed okay with them and the other was just a toy to destroy, and then I realized that with the first one I had used very soft baby yarn. It was originally going to be a baby blanket for a human baby, but I didn't like how it turned out, so it ended up as a dog blanket. The second dog blanket was a big granny square style blanket made of acrylic yarn.
Do they notice the difference between the yarns? I'm thinking, yes, they do. So I decided to use up scraps of baby yarn I have and make a third blanket, this time using double crochet stitch so it more similar to the first blanket. I'm just half way finished with it, so fingers crossed, this one will survive.
In fact, I was testing out my new flip video camera recently and caught them wrestling in the back yard. So this is an example of how crazy these two guys can get around here: