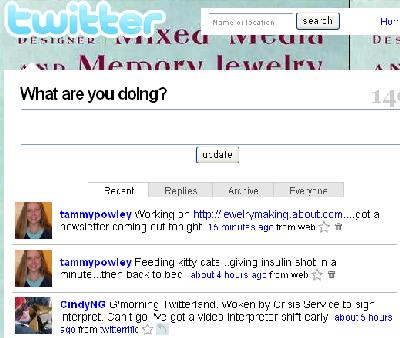 Social networking is admittedly a part of my on-line life. You'll find me tweeting and facebook-ing, and it's fun. In fact, crafting is a big part of social networking, and not just on the mainstream social networks. Crafters use social networking to, well, network, duh, and to also promote their craft work. Because of this, over the last few years lots of craft-centric social networks have been popping up all over the web. At first, I was on the bandwagon joining them all, and at least attempting to participate on all the social networking goodness they had to offer. Eventually, it just became too much to keep up with, so while I may still lurk once in awhile, I'm not very active on them any more. I plain just don't have the time.
Another issue with these networks is their user agreements. Like most people, I may not read every single word of these things, but I eventually started reading enough of them to realize that very often (not always but often) they have some kind of clause slipped in there about how they may share ownership of your content. I'm not using the exact terms they might use, but it boils down to that. They want what you write, create, whatever it is you want to call it. This means if you post a fun project you just designed on one of these sites, the owners of that site can republish it on-line, in a book, magazine, or on a t-shirt and sell it in the mall.
Granted, they will often claim that they would never do that, but if that's the case, then why require you to agree to it in the first place? Why not simply be okay with a limited RSS feed of your blog, for example?
I'm not going to point any specific finger at any specific network, but the reason I decided to post about this issue is I think many craft bloggers don't necessarily realize what they are or could be giving up when they join all of these groups. Obviously, each of us has to make up her or his own mind when it comes to participating in a social network depending on the time we have and the comfort level we have with each of them. I'm just saying, read the fine print, especially the part about copyright, before you click "yes" to any social networking user agreement.