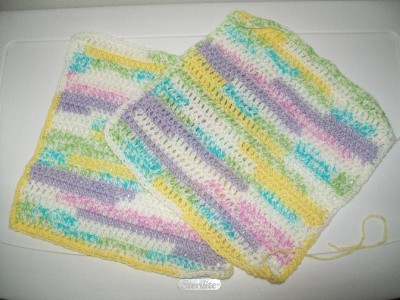 My current crochet project is making a baby blanket for Healthy Start. I'm actually trying to figure out how to quicken this process and also make it more portable so that I can make a few blankets for them. One just doesn't seem like that much, even though they can take a good chunk of time to make.
Hauling around a blanket, even a small one for a baby, can be a pain, so I'm opting to make 10 inch squares. Then I will stitch them together, figuring 16 squares for each blanket to make it 40×40 inches when completed.
It is has been a long time since I stitched crochet pieces of any kind together, so I'm hoping this won't be too difficult to do. So far, at least, the squares are pretty fast and easy. I do one row of single crochet to start, then 20 rows of double crochet, and then finish all the sides with single crochet.
Pictured are 10 inch squares using Bernat Baby Jacquards in a pattern called "Easter Basket." I'm using a size H hook.