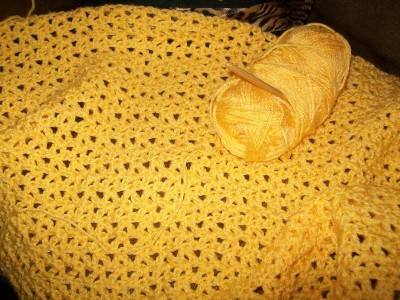 I normally don't start more than one project at a time when it comes to crafting, or at least I try not to. I'm really deadline driven. When I start a project, I have a reason to finish it because 99% of the time I'm giving it to someone, or it's for a writing project. That said, I wanted to try something different as far as yarn for the many baby items I crochet. I've been in a Berant Softee rut and decided I needed to try something different for a change. In fact, that was one of my new year's resolutions when it comes to crochet, to try different yarns and branch out some on stitches.
Thus, I started this V-stitch baby afghan. The pattern is number 70119A from the Lion Brand site. While the pattern calls for cotton-ease, Vanna's Choice Baby yarn was on sale in this beautiful bright yellow called "Duckie." This is a 4-ply versus the 3-ply that I normally use, and it is a super bright color, not the typical pastels I'm used to.
The V-stitch works up very quickly. It basically is a form of double crochet, so it is very easy to learn if you are already a fan of double crochet stitch. I have not spent a huge amount of time on this blanket, and I'm already close to being about half finished with it already.
I'm looking forward to using more of this yarn and making more baby afghans with it.
The pattern is a keeper, and the yarn is great to work with as well. It is soft and chunky, so even though there are lots of holes in this blanket, it still feels pretty substantial.