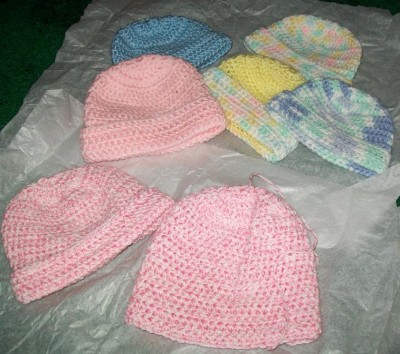 Along with crocheting baby afghans, our club is also working baby hats. I haven't made these in a while, and though I've been trying to find some different patterns for me to attempt, I keep coming back to this one from the Tying Knots in Yarn weblog. It's such a great pattern. It is easy to follow, the stitches are simple, and the results are wonderful.
I have had a few club members ask for a pattern that works in the round because they aren't thrilled with the seam you get on these, but so far, I haven't found anything that was on the super-easy level. Plus, once I wash and block these hats, you really don't see the seam like you do when you are making it. I think some of their issues was that they are still pretty new to crochet and don't understand how to tighten up the tension when moving up to the next row.
We are going to be sending off our first batch of donated baby items soon, and between a few members who are making hats and the hats I've been making, we should have at least a dozen or so to include with the afghans as well. Yeah!