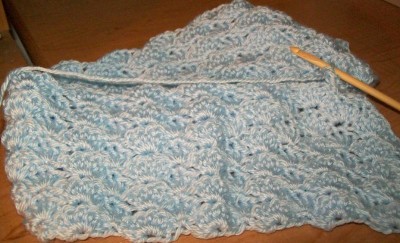 A good friend of mine offered to pay me to make a baby afghan for him that he wants to give to a couple he knows who is having their first child. This is the first time anyone has asked me to make something and offer to pay for it. I thought about it for awhile, and honestly, I have no idea how long it takes me to make items that I crochet. I do it because I like to, and I'm not that great at it, so it is probably best if I don't time myself and try to figure out how fast I am (or more than likely how slow).
I didn't feel right about selling, but I didn't want to turn him down either. It's not like I haven't made a jillion baby afghans for total strangers. Why not make one for a friend? Then I realized I could barter for it instead, and this would relieve some of the pressure.
Pictured is what I've started so far. I'm planning on making it about 36×36 inches in shell stitch. I'm using Bernat Baby Softee in blue and white/blue variegated. I plan to do about 12 inches of solid blue, then 12 inches of variegated, and then another 12 of solid. Then I'll trim it in variegated. That's the plan at least. We'll see how it goes.
I haven't done shell stitch in a while, so this is a nice way to reintroduce myself to it. I forgot how much texture it creates, and because of the softee yarn, it's nice and squishy feeling to boot.