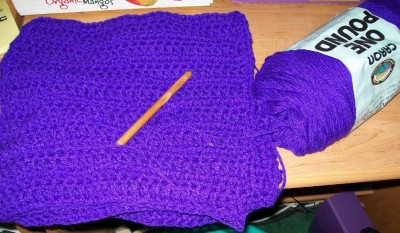 I told myself I was not going to do this. I mean, really, I have too many projects in the works as it is, and the deadline is pretty tight, but after watching the news and seeing how many people have been affected by the tornadoes recently, I finally figured I'd give it a go and try to make an afghan for the Craft Hopes' project #13. Unfortunately, I found out about this just a few days ago, and the afghans must be received by June 15, eek!
So it is double crochet squares and a pound of yarn to the rescue. The skein of yarn is from my stash, good old Caron acrylic. The color is called Iris. I making 15 inch squares, at least 9 of them, and then I'll stitch them together to make the afghan. Right now, I have 4 made so far and a 5th in the works. By the time I post this blog entry, I will probably have a few more (or at least I hope so!) If time allows I may bump this up to 12 squares.
I told myself no more large afghans and no more charity projects to groups that I couldn't count on knowing if the item was received or not, but in this case, I just felt I had to participate and hopefully help one person feel better with a purple afghan to snuggle with.