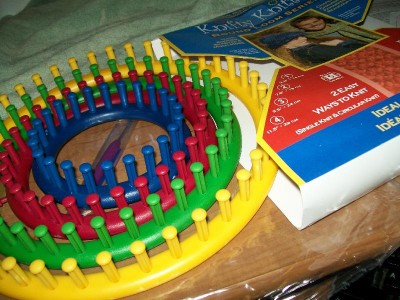 Among the 9 blog posts I lost due to technical difficulties around here were some posts about my recent adventures in loom knitting. I picked up a set of four round looms as part of a Knifty Knitter kit I saw on JoAnn's.com. Of course, I had a 40% off coupon, and I have been curious about these for some time, so I couldn't resist. I'm glad I splurged. While I can't say all my first pieces were perfect, I have gotten a lot better at using these, and boy, talk about fast! You can whip up a baby hat in just a few hours, if that long.
The kit I purchased includes four round looms in graduating sizes: 5.5 inch (14cm), 7.5 inch (19cm), 9.5 inch (24cm), and 11.5 inch (29cm). You can make baby hats, socks, and other small items with the smallest loom. The next size up is supposed to be for children's hats. Then the next size is for adult hats. The largest loom is good for things like cowls.
I make a lot of baby hats for charities, and I am hoping the craft club will enjoy using these. I still don't plan to give up my goal of learning traditional knitting, but for speed, I am loving the loom!