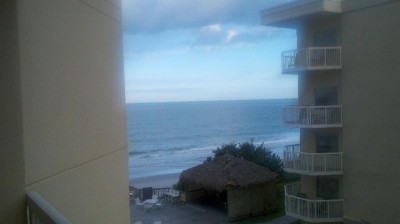 This is the view from my balcony. Yes, the Crafty Princess managed to escape her comfortable domesticity and headed for the big city of Melbourne, Florida for a few days. I attended the 2011 Florida College English Association Conference and stayed overnight at the Crowne Plaza, located right on the beach.
I don't get out much, and admittedly, I am okay with that. In fact, I really do not like to travel. There, I said it. I'm sure some readers will shake their heads in disbelief, but I love to stay at home, spend time with my husband, play on my computer, read on my Kindle, chill with my cats, and make fun stuff. What's not to like?
However, I will say that the very few times I venture away from home, I am usually (not always mind you) glad that I did, and this was one of those times. The conference only lasted a few days, and it was very close to home, so I got up super early on the first day and made it there a little after 8am. The first panel started at 9, so I was there in plenty of time. I stayed at the hotel (where the conference was being held), and after listening to some great readings and breaking for lunch, I stopped by the brief mixer and rubbed some elbows, had dinner with my fellow faculty peeps (many of whom I never get to see), and then ended the night with a little crochet and a few stupid TV shows before going to bed. The conference ended the next day with more panels, a speaker, a lunch, and then I was headed back home by about 2:00 that afternoon.
I have attended this particular conference a few times, and it is always refreshing to spend time with fellow English professors. While there are a few of the "celebrity" types who always act like they have never seen me before in their lives, 99% of the attendees are just super nice people, and I always become energizes when I listen to their presentations. I learn about authors I either never heard of before or knew little about. I mull over unique teaching methods some of the presenter share. And, of course, I usually try to present a paper as well. This time, I presented a sort of silly paper about Flannery O'Connor's South and whether or not we Floridians belong there or not. Luckily, my audience laughed with me and not at me. I was even stopped while walking down the hall by someone who had heard my presentation and commented on how much she liked it, wowie!
While I am not a traveler at heart, I do wish I could do something like this a little more often, including academic as well as craft-related functions (I'm reminded of the Bead Expo I went to years ago in Miami). It is amazing how much I learn from others who are knowledgeable about a topic that is so important to me.