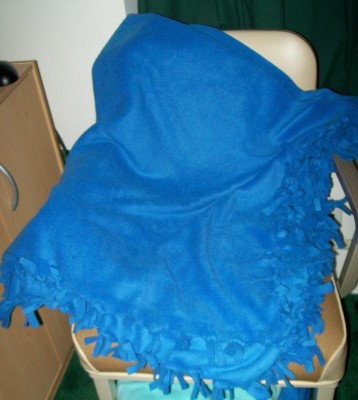 The craft club is going to make some no-sew fleece blankets for a local shelter, so I thought…hmmmm…maybe I should actually make one before I attempt to teach a bunch of college students how to make one! Now there are all kinds of instructions all over the Internet, but that has been kind of the problem. There are tons of instructions and many are very inconsistent in explaining how to make these. In comes, Mom to the rescue!
This past weekend I went for a visit, and she showed me the basics on now to make no-sew fleece blankets. Pictured is one of nine more I need to have made for the shelter. I think it turned out pretty well, but I was really surprised at how long the process took. I have scheduled about 3 hours for the club to make these, and I realize now that is not enough time.
So I prepared a few blankets so that only some fringe knotting needs to be done, and hopefully, we can get at least one made during the first meeting. Worse case scenario, I will have to suck it up and make whatever is left, which I am okay with (when I don't think about about 300 other things I have to do this semester!)
Hopefully, I wrong, wrong, wrong, and my team of crafters will whip through these lickety-split. I will report back one way or the other.