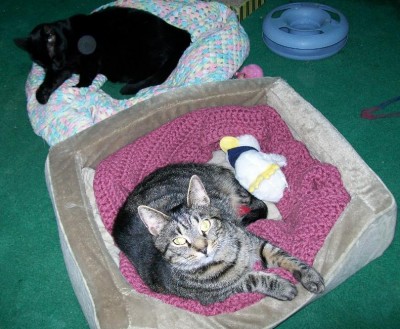 Ah, Herbie, he is so, so sweet! We are celebrating 11 months as adopted cat parents this weekend, and this little guy has really come a long way since he first came into our home and spent the first few days hiding behind a desk. Now, he still is not completely out of his kitty shell, but every day there is a little more progress. More and more he is trusting us. I can pick him up briefly, kiss him on his head, and when I'm in another room with the door closed, he will often be waiting for me on the other side of the door with a high pitch kitty squeak at the ready. In another year, he might be sitting on my lap as I work at on my computer.
Okay, now time for some craft web surfing!
Eileen – The Artful Crafter
Make custom envelopes the quick and easy way with the Crafter's Companion Ultimate crafting tool.
Mixed Media Artist
Cyndi shares a few more ideas for manipulating fabric and shows off her textured quilt top…now it's time for embellishments!
Stefanie Girard's Sweater Surgery
How to make a recycled wool felted sweater Peep garland.
Aileen's Musings
Aileen invites you to check out 3 pages of freebie projects and techniques to help inspire you and get your craft on!
Carmi's Art/Life World
Carmi shows you how to apply tissue papers to new wood shapes by Claudine Hellmuth.
Craftside-A behind-the-scenes peek at our crafty world
This week at Craftside there is a bit of fashion and jewelry inspiration, spool and thread unconventional ideas, info on the upcoming Makerie event and Stitch & Craft Show along with how to make and eat stuffed artichokes.