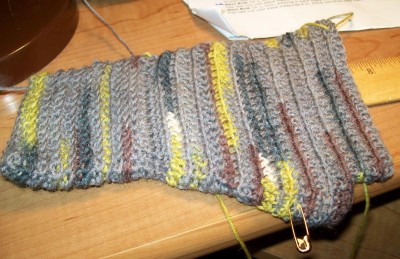 As I mentioned before, I have had a heck of a time with a pair of fingerless gloves. But after frogging them for almost a dozen times, I finally have made some significant progress. I have just a few more rows to do and the thumb part.
Of course, that is easier said than done. I'm using thin sock yarn (first time I've every used sock yarn) and a size F hook. I'm also having to crochet in the front loops most of the time, and if it isn't in the front, then it's in the back loops. Thin yarn + small hook + not so easy stitch = I must pay attention and actually use my brain for a change. My hands have also been challenged and are starting to rebel, so I can only do a few rows before I have to stop and rest.
Now this glove is in no way perfect, but I do have the correct number of stitches – yeah! – and it fits so far – double yeah! – and the boo boos are probably only noticeable to me (at least that the story that I'm sticking with). Le sigh! I just have to make one more after this.