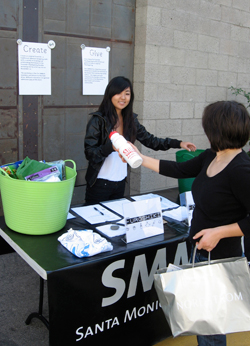 MEDIA CONTACTS: Beth Laski, 818.986.1105, beth.laski@smmoa.org
FOR IMAGES: Elizabeth Pezza, 310.586.6488 x112, elizabeth.pezza@smmoa.org
SANTA MONICA MUSEUM OF ART
PRESENTS
Cause for Creativity: What a Girl Wants, What a Girl Needs
DONATION DRIVE FOR ESSENTIAL GOODS
OCTOBER 24 – NOVEMBER 4, 2012
ART WORKSHOP
SUNDAY, NOVEMBER 4, 2012
SANTA MONICA, CA—Santa Monica Museum of Art presents its fourth annual
Cause for Creativity: What a Girl Wants, What a Girl Needs—a three-part
community-engagement initiative that includes a donation drive, an art workshop,
and a Thanksgiving donation delivery benefiting women residents at Ocean Park
Community Center (OPCC), the Westside's largest and most comprehensive
provider of housing and services to low-income and homeless people.
The program kicks off October 24 with a 12-day donation drive for new and
unused essential goods for women: socks, undergarments, shampoo, soap,
toothpaste, notebooks, feminine hygiene products, make-up, bus passes, and
umbrellas will be accepted at SMMoA. All donors will receive a complimentary
ticket to participate in the Museum's subsequent Cause for Creativity community
art workshop on Sunday, November 4 from 3 pm to 5 pm.
At the art workshop, local designers and artists will teach participants to create reusable
bags from recycled T-shirts. Designs will include a shopping bag as well as a
smaller produce bag—the perfect companions for the region's many farmers'
markets.
These one-of-a-kind T-shirt bags—sewn, appliquéd, and silkscreened by
participants—will subsequently be used to carry the donations for delivery to
OPCC. Participants are encouraged to bring clean unwanted shirts and are
welcome to create additional bags for themselves, friends, and family. The museum
will provide music and food, fostering a workshop atmosphere of community and
creativity.
The week following the Cause for Creativity workshop, SMMoA staff will deliver
the care packages to the women at OPCC during their annual Thanksgiving
holiday lunch. Each OPCC female resident will receive her own re-usable bag filled
with all the essential goods SMMoA and the community participants have donated
and packed for her.
"With today's uncertain times, unemployment, and other challenging factors,
OPCC serves as a refuge for so many women and families," said Asuka Hisa,
Cause for Creativity creator and director of education and public programs at
SMMoA. "This program provides the public with the opportunity to make art and
make a difference by recognizing those in need within our community."
Cause for Creativity: What a Girl Wants, What a Girl Needs is recommended for
ages 5 to adult. Admission to the workshop is $8, but free with the donation of an
essential good and for SMMoA members. Donations will be accepted during
regular museum hours Tuesday through Saturday, 11 am to 6 pm, and at the
Cause for Creativity workshop on Sunday, November 4.
Support for SMMoA's education and outreach is generously provided by The
James Irvine Foundation; Good Works Foundation and Laura Donnelley; City of
Santa Monica and the Santa Monica Arts Commission; and Sony Pictures
Entertainment. Special thanks to Writers Boot Camp and Whole Foods Santa
Monica for their in-kind support.
On view at the Santa Monica Museum of Art through December 22, 2012 is
Michael Queenland: Rudy's Ramp of Remainders in the Main Gallery and Agnes
Denes: Body Prints, Philosophical Drawings, and Map Projections, 1969 – 1978
in Project Room 2. Also on view through November 28, 2012 is Kianja Strobert:
Nothing to Do but Keep Going in Project Room 1.