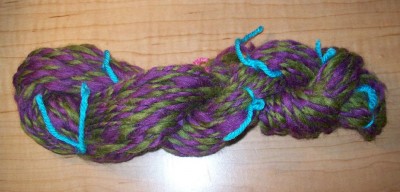 It is not perfect by any means, but I'm so proud of it, my actual first practically "real" skein of yarn made by me and my little spindle!
I used Wool of the Andes roving from Knit Picks in the Dill Heather and Amethyst Heather colorways. Then after spinning each, I plied them together. I think this is only about 28 yards long, so it's not a big guy. However, I would not have been able to have much more on my spindle. It just would not fit. I plan to attempt to make more of this same combination so that I can have enough to make something with it.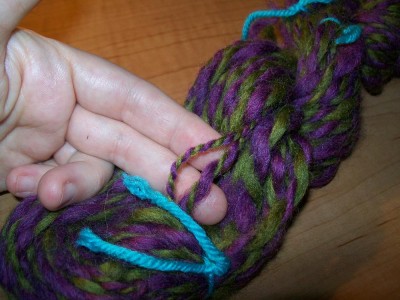 As you can see, I am in no way consistent as far as thickness, but as long as I make something simple like a scarf or cowl, I'm deeming this yarn "usable." It is some progress when I compare it to my first skein, and this is skein number 5, so I'm encouraged.