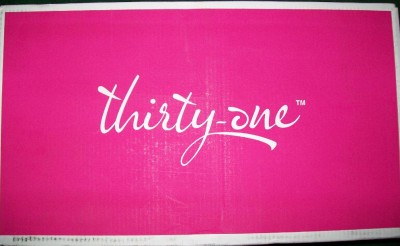 After traveling down and then back up the east coast of Florida, my Thirty-One Gift kit finally arrived today. I was getting a little jealous that the box was doing more traveling than I was during spring break. It arrived in Orlando, then passed me by and visited Miami, and then turned around and headed back up north to West Palm Beach before it finally made it to my doorstep.
I have to admit that when I first ordered the kit that my thoughts were leaning more towards the idea of getting the kit, maybe buying a few more items at a discount, and then retiring. I am sure I am not the only one with this thought, and it is not usual for people to do this.
For example, when I first became interested in rubber stamping, a friend of mine suggested doing pretty much the same thing with Stamp It Up. I can't remember how much that kit was, probably something around $100, but I got a ton of great stamping supplies, and I am still using a lot of them today.
I never did anything else with Stamp It Up as far as selling its products though. The idea is that by buying the kit, you get a lot of merchandise at a discounted rate. If you decided to move on and actually try to sell products that's fine, but there is no contract requiring that you do so.
While I have been waiting for my kit, I have been doing some bag lady training. (Before I keep going, let me add this old disclaimer: These are my own ramblings and do not reflect the notions of Thirty-One Gifts, which I am an independent consultant for.)
Okay…so back to my training….there is actually a lot to learn with this new venture. They give you a web site that is full of training material in both pdf form and as videos, and consultants also have a web site that includes a virtual office as well as an area for customers to shop.
I feel like when I do something I have to study it so that I understand what I am doing. However, I realized pretty quickly that one way to learn how to do this was to, well, just do it. Plus there is a great deal going on right now that ends April 1st (see the video posted at the end of this blog entry), and I wanted in on it!
I ended up jumping in and having my first virtual party. It was just a small group who participated, friends and family, and I closed the party only after a few days because I wanted everyone to get their goods ASAP, and again, I wanted to understand how to do all of this before I attempted a second virtual party.
There were a few hiccups on my end, but I had a lot of great help through my director and also through a group on Facebook. They allowed me to ask lots of stupid questions too. I still feel a little green, but I have been very impressed with the amount of training and support the company provides.
While I do not know how long I am in this for, I've decided not to retire the day after getting my kit like I did with rubber stamping. I don't see me becoming a director any time soon, but I am going to give it a shot for three to six months and just see how it goes. If I crash and burn out, at least I will have lots of wonderful bags to use for my crafting and organizing needs. If I can keep it afloat, who knows?
On that note, below is the video I mentioned earlier. It shows some of the totes that are on special right now until April 1st. With a purchase of $31, you can get one of seven tote bags for half the retail price. You can either shop through my Thirty-One web store, or if you want to get some free merchandise, contact me about how I can set up a virtual party for you to host: tammypowley @ yahoo dot com.