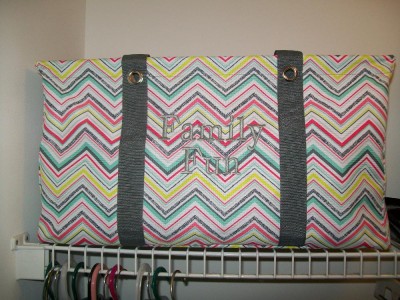 Admittedly, our laundry room is the smallest room in the house; in fact, I hesitate to call it a "room" because it is really kind of a hallway in between the garage and kitchen. There is just enough space to open the dryer door, and above the washer and dryer is a shelf that had turned into a catch all for rags and sundry items vaguely related to cleaning.
One mantra of Thirty-One Gifts is finding solutions, and after getting my kit when I joined as an independent consultant, I realized that I could use the Large Utility Tote included in the kit as a place to start with getting that shelf organized. The tote is one of the company's most popular items, and now I know why: You can use it for all kinds of storage.
The tote pictured is in the Party Punch pattern. Without monogramming, it retails for $35. It measures 11.75 inches high, 21.5 inches wide, and 10 inches deep and has a metal frame around the top so you can collapse it down and flatten it in case you want to store it some place. It also has handles on each side, and mine came monogrammed with "Family Fun" on one side. I thought that was kind of a funny saying because I ended up storing all the dogs' towels in there for when they get baths, some fun huh?
On the opposite end of the shelf, I have a few baskets, that were buried in the piles of stuff, filled with cleaning products and dog leashes.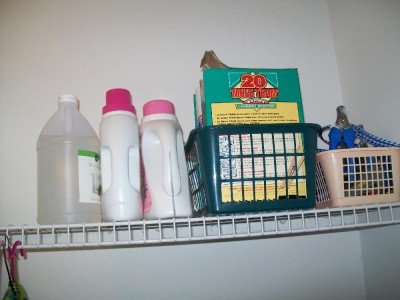 It is just one tiny room, but I feel so good that it is organized now, and of course, this has got my mind thinking about my next organization goal. I ended up ordering another
Large Utility Tote
in the Woodblock Floral pattern without any monogramming for our bedroom, and I may get a second one for that room. My husband has a ton of shirts that need ironing, and they tend to pile up on one of our dressers…ummm…yeah because I do iron but not every dang day! Plus even if I got myself in gear and ironed every shirt he owns, there is no room in his closet, which he needs to purge some stuff from. I'm not waiting on that to happen any time soon.
If you are looking for organizing solutions, you can view the Thirty-One Gifts catalog on my shop site. Along with the large utility tote, they have a number of other products that can be used to organize your studio, home, or office.