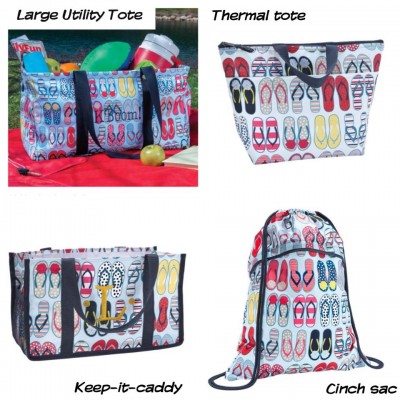 I love it when I know about 31 Gifts monthly specials in advanced. It makes it so much easier to plan for gift giving. I am going to start on my holiday gift shopping this summer, doing it a little at a time, so that I can get some great deals, and luckily, 31 Gifts has announced the monthly specials for the next three months, including May, June, and July.
For May 2013, which we still have a good chunk of left, with every $31 purchase, you can get any of the thermal products half off. So, for example, the cute flip flop Thermal Tote (pictured top right) is normally $18. However, with a $31 purchase, you can buy it for $9. The Fresh Market Thermal, pictured below, would be $25.

For June 2013
, with every $35 purchase, you can buy any of the Large Utility Totes for $10. Plus, for this month only, this tote will be available in the flip flop pattern (pictured top left). Normally, these retail for $35. These totes are one of the company's most popular products, and I think they are really versatile. You can use them as a grocery shopping tote, or you can use them for storage. For example, I've got one in my laundry room (see the photo below) to store the towels we use when we wash our dogs. I've got another I use in my office at work to store yarn. I definitely plan to buy a number of these for gifts and a few extra for myself during June.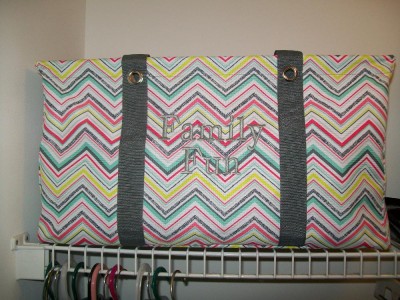 For July 2013
, with every $31 purchase, you can buy any item (except for collegiate items) at 31% off the retail price. Now this is a huge special! If you have been looking at some of the higher end products but did not like the higher end price, this is when you can snag some deals. For example, the Super Organizing Tote, which I use to store my spindle, roving, and other spinning supplies (see below), is a great bag, but it is normally $50. At 31% off, it would bring the price down to $34.50.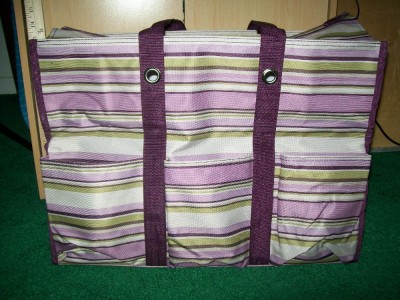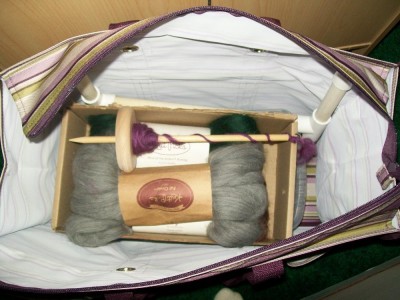 If you are thinking ahead to holiday gift giving or want to snag a few deals for yourself, you can browse through the catalog on
my 31 Gifts web site
, and for even more discounts, consider contacting me (tammy powley @ yahoo dot com) for information on how you can host a web-based 31 Gifts event.
I also have a closed Facebook group called Tammy's Totes & More. I post 31 Gift info over there & will be doing some product giveaways. Feel free to join us!
Note: I'm a 31 independent consultant, and this post is my personal opinion.