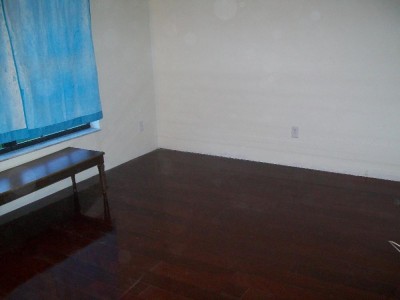 My craft-room slash home-office is also the main room my cats like to hang out in, probably because I'm usually in there writing, grading papers, and making stuff. We have been planning to put in new flooring (as our 15 year old carpet was beyond…well…beyond!), and we finally got some major work completed this past weekend (forgive the spots on my dirty camera lens). It meant taking tons of furniture, books, craft supplies, and more out, and then my contractor (aka husband) painted the walls (a putty color) and installed engineered hardwood flooring.
What a long weekend, especially for him. To say he had zero energy left after all of this is putting it mildly! So, of course, we did not get everything done in one weekend. We did, however, get the cats settled in there while we wait until this weekend to finish the details like the trim. They have all given it the kitty paws up!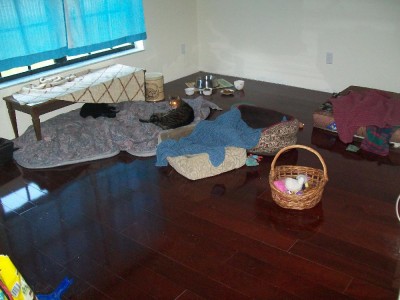 After the trim is finished and a few spots of missed paint added, we can put the furniture back in there. This gives me a chance to do some rearranging and reorganizing. I plan to move all my jewelry supplies that were on one desk into a different room (which I will then have to reorganize as well). Since adopting the cat crew a few years ago, it has become just about impossible for me to bead in this room because they all like to help me.
I had just about figured out how I wanted to arrange the furniture back in the room, removing some and adding an old Popasan chair that my cats love, when we came into a snag. This is the snag: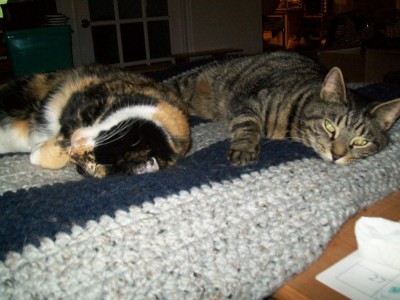 Doesn't Chanel and Herbie look ubber comfortable? This is in the living room now. We crammed most of the furniture in there, and set up a desk with my computer so I could still do some work. One of the tables, we – for no reason other than it fit – set next to my desk, and I threw an old dog bed on top of it and a small afghan on top of that. Well, the LOVE IT! This spot is right next to me now as I type, and there is almost always someone there, near me, hanging out, enjoying the comfortable spot where they can sprawl and lounge together while still being near me.
This set up with the table and cushion on it next to me was not part of my plan! Ack! But, even my husband has realized we are going to have to figure out a way to get this set up configured in my room when we move all the furniture back.
I know it is crazy to arrange furniture to accommodate cats, but seriously, how cute are these two? How can I say now them?