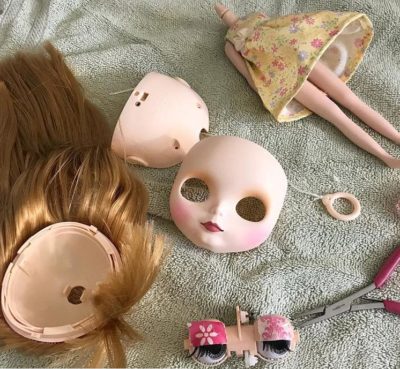 I'm finally attempting to do some real Blythe doll customization this weekend, starting with this doll. In fact, I have two fakie Blythe dolls I've purchased just for this. I have bought dolls in the past thinking I would customize them, but then I chicken out, telling myself they are too cute to change, but this time I'm doing it starting with the eyes. I'm not ready to carve the faceplates and do face ups, but at the very least, I can decorate the eyelids and give them sleepy eyes with new beaded pull cords. Baby steps, right?
Below is a "before" video where I show both dolls before I start working on them:
I'm now waiting for sealant to dry on the eyelids as well has the first doll's hair to dry (because she needed her hair washed, yes, washing doll hair, LOL!). Once everything is dry, I will (fingers crossed) put her back together. I will post a video on my
YouTube channel
at some point when I have her at least semi-finished, along with occasional photos posted on
IG
and
Facebook
if you want to follow my progress.