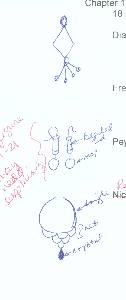 I was reading one of the latest posts at Beading Daily, and editor Michelle March asked if anyone sketched their jewelry designs first? She even showed a sample of a sketch she did and then the finished product, so I thought since she showed everyone hers I'd do the same here. Pictured to the left is a scan from a very messy sketch of some designs I made for one of my latest books, Jewelry & Beading Designs For Dummies.
I actually made sketches directly on the book outline, which is something I do often to help me keep focused. I find this helpful because I normally have at least a few projects (books, articles, etc) going on at the same time, so the doodles sort of refresh my memory when I pick a project back up after having not looked at it for a little while.
For me, I have no trouble thinking up jewelry ideas, but keeping them all straight can be a whole 'nother story! So, do you also sketch or have you thought about it? I know some jewelry designers may think you have to have some kind of great drawing ability or CAD software, but honestly, if the sketch is just for you, I think that's all overkill. So, grab a napkin, scrap piece of paper, or better yet, buy yourself one of those little art sketch pads from the craft store next time you visit, and let your pencil go wild with ideas.