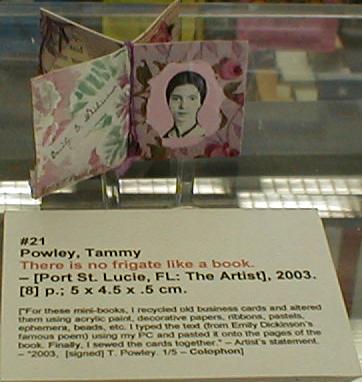 A few years ago, I discovered book art, and I crafted a number of books, even taking an amazing workshop at The Bienes Center for Literary Arts where I learned a lot of basic book construction techniques. I have always loved paper arts, and this seemed to be a way to integrate my love of paper and text, and of course, there were a few beads thrown into the mix as well.
Pictured above is a piece I made using Emily Dickinson's famous poem, "There is no Friagte like a Book," which I entered in the Bienes' yearly book art contest. Of course, I didn't win anything, but my little book became part of its collection and was displayed among the work of other amazing artists.
Needless to say, when I saw that Interweave Press now has a Beaded Book competition going on, I was very interested:
To celebrate our love affair with books and beads, Beadwork announces our sixth international juried competition and exhibition: The Beaded Book!
The Beaded Book is bound to bring out your creative genius. Alter a book, re-create a favorite character, bead a page of text, or make whatever your imagination can conjure up relating to beads and books. Show us your passion for books and beads in one creative effort. We can't wait to see how you combine glitterati with literati! The winning entries will be published in a gallery in Beadwork magazine and the actual works will be exhibited at Bead Expo Santa Fe in March 2009 and Bead Fest Philadelphia in August 2009.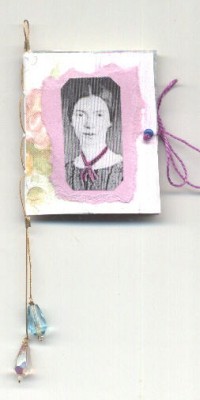 Here is a second Emily book I made. It's similar to the first one, but I used beading wire, crimp beads, and a crystal dangle bead to stitch up the spine.
Honestly, I have no idea if I'll have time to put something together for this. My summer is pretty darn full already, but I love the idea at least.