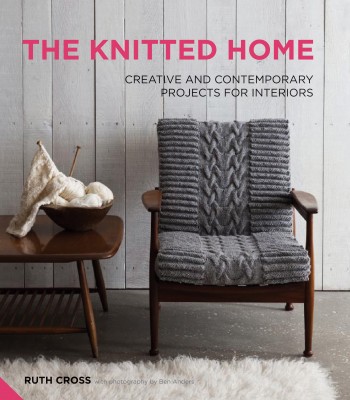 For the month of April 2013, you can enter to win this new knitting book by Ruth Cross. It's called The Knitted Home: Creative and Contemporary Projects for Interiors and is published by the Aurum Publishing Group. Here is a description from the publisher:
This exciting new book is a creative collection of over 20 knitted interiors projects by one of the UK's most exciting textile designers. In The Knitted Home author Ruth Cross draws on her own experience of designing organic and freeform collections to guide you through the process of making and creating your own items. She creates desirable projects that can adorn many different items around the home including wonderfully textural cushion covers, cosy blankets and throws, fitted covers for chairs and footstools, stylish table runners and mats, seriously desirable wall hangings and smart floor rugs.
In addition to giveaway away a copy of this new book, the publisher is also offering a discount for my readers. Here is how that works:
To order The Knitted Home (9781906417727) for £16.00 including p&p*, telephone 01903 828503 and quote offer code JS195. Or send a cheque made payable to: Littlehampton Book Services Mail Order Department, Littlehampton Book Services, PO Box 4264, Worthing, West Sussex BN13 3TG. Please quote the offer code JS195 and include your name and address details. *UK ONLY - Please add £2.50 if ordering from overseas.
This giveaway is available to all readers no matter where you live. To get a chance to win a copy of The Knitted Home answer the questions below in the comments:
Have you ever knitted an item for your home? If so, what was it?
Post your comment only once in this blog entry and you will get a chance to win. The deadline for entry is April 30, 2013 midnight ET. Then during the first few days of the next month, I will randomly pick one winner. Make sure to include your email address when commenting. I will email the winner who will have 3 days after the drawing to reply back with a mailing address. Anyone who does not reply after 3 days will no longer be eligible to win, and I will draw a new winner. The book will be mailed by the publisher, so the winner will need to make sure to allow time for shipping, especially if you are not located in the UK.
ETA: Congrats to #25!