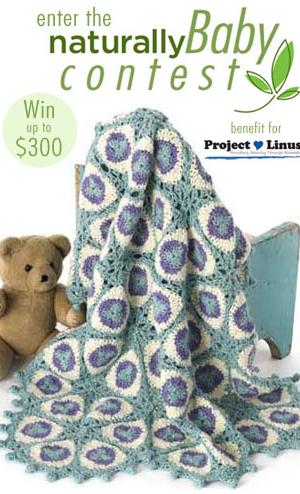 Robin Beam, now the A. C. Moore Director of Education, sent me a press release about baby blanket contest that also benefits a wonderful charity. I think it's great when you get a double whammy of goodness going like this:
NaturallyCaron.com and A.C. Moore are proud to co-sponsor a contest! Knit or crochet a baby blanket using Naturally Caron Spa or Country Yarn, provide the info requested with a picture of your creation and you could win up to a $300 A.C. Moore Gift Card. Just think of all the crafty things you can do with that! To top it off, for every entry sent in, Caron will be donating $1 to Project Linus, which is comprised of hundreds of local chapters and thousands of volunteers across the United States. Each volunteer and local chapter all work together to help us achieve our mission statement, which states:
First it is our mission to provide love, a sense of security, warmth and comfort to children who are seriously ill, traumatized, or otherwise in need through the gifts of new, handmade blankets and afghans, lovingly created by volunteer "blanketeers. "
Second, it is our mission to provide a rewarding and fun service opportunity for interested individuals and groups in local communities, for the benefit of children.
The contest runs from October 17, 2008 through December 1, 2008; go to www.naturallycaron.com for contest rules. A baby blanket is easy to knit or crochet up…it's for a great cause and there's the possibility of winning a prize!
If anyone has any questions, they can contact Caron via their website or A. C. Moore Director of Education, Robin Beam at rbeam@acmoore. com
Good Luck!
If you decide to participate in this contest, afterwards you can donate your finished baby blanket to Project Linus, which includes a listing of local chapters on the group's web site. Heck, even if you don't know how to crochet or knit, when I looked up my local chapter it had a web site that said they'd teach me if I didn't know.