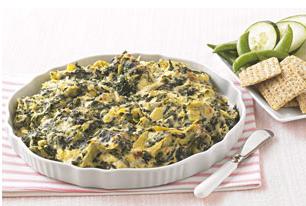 I have to admit that I'm not much of a cook. I pretty much live off of Lean Cuisine. However, I'm very lucky to have married a man who not only enjoys cooking but is actually very good at it, and he often asks me what I'd like for him to cook. Today, we are both home from work, so we decided to do mainly finger foods throughout the day.
Cheesy Spinach and Artichoke Dip (pictured) is from a recipe my sister turned me on to at KraftFoods.com. She made it for a get together we had last weekend, and it was fantastic! She did alter the recipe a little, however, adding in some sour cream along with mayo to help with the consistency a little. We plan to serve this up with some Dorito Scoops and carrot slices. Yum!
The other finger food is a recipe called Buroche Burgers. I pronounce it Ber-aw-chee, and I have no idea where this recipe originated, but it's been a family favorite for years. In fact, I haven't had these in years, but my grandmother used to make them now and then. I remember one family reunion at her home in Colorado where she must have made a zillion of these. I'll try to get a picture of them, but basically, they are sort of like hamburgers with the dough all around the meat. The meat is very spicy and includes onions and cabbage in with the ground meat, which you place precooked inside the dough and bake. Per my Aunt Alice, here's the recipe:
Buroche Burgers
Dough: 2 pkgs dry yeast
2 cups warm water
½ cup sugar
2 tsp salt
1 egg
¼ cup Mazola oil
6 to 6 ½ cups flour
Dissolve yeast in 2 cups warm water. (I dissolved my yeast in ¼ cup of water first, then added the rest of the water). Add sugar, salt and about half of the flour. Beat w/mixer 2 minutes. IMPORTANT. Then add egg beaten and Mazola oil. BEAT WELL. Work in rest of flour and hands until dough is smooth. Oil top of dough, cover and put in refrigerator for 2 hours or longer if you can't get to it.
Meantime make filling
1 onion chopped
2 lbs hamburger
1 small head cabbage, shredded fine
salt and lots of pepper and other seasoning
Brown meat and onion in large frying pan. Drain off fat. Put cabbage on meat and stir in. Steam mixture until cabbage is tender.
Roll out part of dough at a time to about 1/3" thickness cut into 4" squares. Pour large spoonful of meat mixture on each square. Pull up corners and pinch closed. Bake on slightly greased cookie sheet at 350 about 20 minutes.
Made 14 large – dough was real sticky before it was refrig – ok though – did add ½ or so more flour
As I said, I have no idea where this originally came from, though my grandmother adapted many of her recipes from an old Betty Crocker book.
Our third and final snack of the day is a dish I could even make, Deviled Eggs with Caviar on top. If you have never tried caviar, then you are missing out, and it is excellent with eggs because they help balance the saltiness of the caviar.
In between all this eating, I plan to continue working on the baby blanket, which is about at the half way mark. I'm now thinking that it might need some kind of trim around it, but we'll see once I get to the end how I feel. The yarn is so super soft that I'm thinking the blanket could use something to help structure it a little more.
Anywho, I hope you are also planning on a day of food, family, and fun.