I've been away for a few days from the blog working on school stuff. I know. I know. I'm supposed to be on vacation, which is exactly what was going through my head as I was working, but I decided to revamp and reorganize one of my classes for next semester. It's a composition class I've taught for years, and while I do change things now and then, I hadn't done a total reworking of it in some time. It's not that things weren't working, but I get bored doing the same thing semester after semester. I can't help myself. I'm basically done except for some very minor items, so today I'm turning my reorganization bug towards my office/studio. It is to the point that I really can't make any jewelry because there's just crap everywhere! How that happens I have yet to figure out, but it does.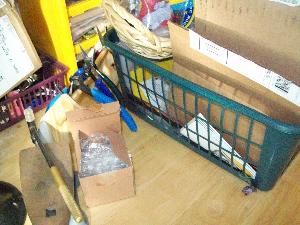 This past summer I started migrating most of my supplies into one room rather than have it all over the house, concentrating especially on pulling it out of the family room, which we are now renovating. Because most of the time I write about what I'm making, it just makes sense to have most of my supplies and tools here near my computer rather than having to haul items back and forth constantly. This means going through about 20 years worth of collected craft supplies, and though it is taking me a long time to get through it all, I'm glad I've done it. Along with getting organized, at least partially, I have started de-stashing, selling some items on Etsy and giving other items away. In fact, I have a box full of DVDs and videos I have reviewed over the years packed up and plan to get these out to the little something group after the holidays when the post office won't be so scary.
Here's one box that I recently packed up from my supplies in the family room. I literally just grabbed items and stuffed them into a big box. Eventually, this box-o-junk will turn into….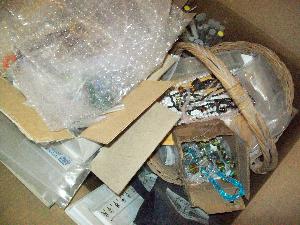 Organized and easy to locate supplies filed in plastic boxes with labels to boot! This is at least one area of my office/studio that I've managed to get under control. My vision is for the rest of it to look similar to this. But, yes, I've got a long way to go. Speaking of which, I better get my figures off the keyboard if I want to see the top of my workbench today!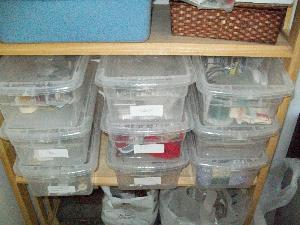 Here's wishing all of you a wonderful (organized) 2009!