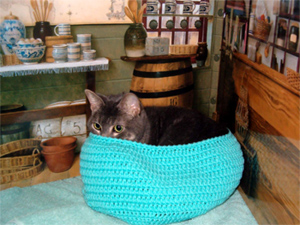 Doesn't this cute kitty look snug and secure in his Crochet Snuggle Tubbie? This is just one of the free project ideas offered at the Snuggles Project website for those interested in stitching and then donating blankets and other items like the tubbie pictured to animal shelters. The Snuggles Project is one of a number of projects initiated by Hugs for Homeless Animals, a non-profit group dedicated to helping homeless animals.
What I like about this project, besides the fact that I'm a huge dog and cat lover, is that it is very doable for someone like me. I do give to a few local shelters as far as monetary donations as well as the Human Society, but I'd like to do more without getting over my head as far as time commitments. This way, I can make and donate items on my own schedule.
The organization offers a world-wide shelter directory to help locate shelters in your area, and I was able to find a number that are nearby. Again, this is a plus to me because I really like the idea that I'm helping out in my local area. I know there are charities all over the world, but if I can help on a local level I'd rather do that first.
I'm still planning to work on items for the Linus organization, but I think these are both worthy charities. I think the hardest part will be getting something like this little tubbie out of the house because I can imagine that my own cats would love something like this.