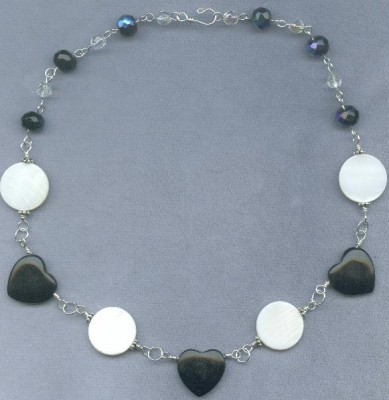 Since today is Valentine's Day, I thought it appropriate to show off one of my most recent Valentine's inspired jewelry pieces before I introduce my weekly crafting links.
This is my Harlequin Wire, Onyx, Mother of Pearl, and Crystal Necklace, which I posted both on Etsy for sale as well as the tutorial for those interested in making one on my About.com Jewelry Making site. Okay, now onto the crafty links!
Cross Stitch at About.com
Do you ever find yourself in a stitching slump? Vote in the poll and read (and discuss in) the comments on Connie's blog
Layers Upon Layers
Cyndi explores making small quilts from rusted fabric.
About Family Crafts
Find out how you can get your creative ideas, tips, reviews, and photos published!
Aileen's Musings
Aileen gives a magnetic twist to her paper towel background technique!
Naughty Secretary Club
This week Jen is wishing Abraham Lincoln a sparkly birthday with 10 tips on creating wearable glitter portraits from Hot Pink Pistol.
Stefanie Girard's Sweater Surgery
The four letter words are flying this week with a fun altered glove project using Wrights Iron-ons.
The Impatient Crafter
Madge's new book Beyond the Bead has hit the shelves! Check out this sneak peek free project and leave a comment to win a free copy and a special prize!
Alexa Westerfield a.k.a. Swelldesigner
Make sand heart Valentines or mix it up with a variation on the idea. Swelldesigner shows you how!
Cathie Filian
Baby slings are all the rage and can cost a fortune in retail stores. Cathie Filian has a simple pattern that only requires 2.5 yards of fabric.
Craftside-A behind-the-scenes peek at a crafty world
Craftside is sharing the love with free knitted and crocheted flower patterns from Margaret Hubert's new book, Rejuvenated Jewels from the new book by the same name by Amy Hanna, a Valentine heart envelope how-to and an ATC from a box of Goldfish.
Crafty Princess Diaries
The Crafty Princess has caught up on a little Etsy work, which means more star charms and a few finished piece.