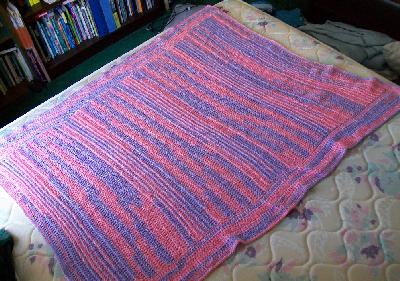 Since deciding to venture more into the world of crochet earlier this year, I have joined a number of on-line yahoo groups who focus on the craft of crochet. Originally, I did this for a few reasons. First, if I had any questions as I was trying new stitches and/or patterns, I would have someone to ask. In my off-line world, I know of no one that crochets (mainly I know jewelry designers). Also, of course, I thought it would be a good way to just get to talk yarn with other yarn crafters.
One point I didn't consider when joining was the fact that most of these groups are fairly active when it comes to crochet and charities. One group, simply called Crochetlist, has a monthly charity challenge. Each month they have a different project they challenge list members to make for various charities, everything from booties for senior citizens to baby blankets. I haven't been able to participate in all of the challenges, but what I like about them is that they are organized and the projects are often do-able for the most part. You have a clear goal when starting the project. If you end up with time enough to make more than one item, great, but if not, one blanket, square, or whatever is added to the work of many other yarn-crafters, so in the end it can make a big impact.
Another on-line group I've joined more recently, Heartmade Blessings, is totally dedicated to making afghans for charities and people in need of even just a warm hug. They are extremely organized with a group of mentors and specific crocheters who assemble the squares sent to them by members of the group. There's even a database with lists of who needs what.
There are lots of great groups out there. These are just a few, so if you are in need of some crafting comrades, look no further than your computer!