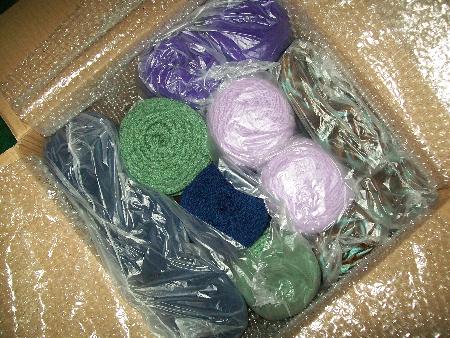 Check out the yummy box of yarn goodies that recently arrived. Most of it is destined for afghans, but needless to say, I have a lot of projects in general planned. I also don't see myself trudging up to Michael's any time soon. Besides this box, I also got a box full of cotton yarn I plan to make items like crocheted market bags (which I've already started on) and maybe some wash clothes. I thought they might make some nice gifts this year, possibly teamed up with a few other items like some nice hand-made soaps.
My crafting blogger buds are also very busy:
Cross Stitch at About.com
How do you organize your flosses and fibers? See what other stitchers do, then share your own methods.
Stefanie Girard's Sweater Surgery
Earth day Jewelry Making Inspired by Heidi Boyd's Simply Beaded Bliss- making charms from button covers and advertising buttons.
The Crochet Dude
Drew met the King of San Antonio!
The Impatient Crafter
Madge shares some thoughts about copyrights, artist's rights and intellectual property theft in this thought provoking post.
About Family Crafts
Why not make a special May Day treat for your neighbors!
Aileen's Musings
Aileen has a Bottle Cap project just in time for Mother's Day or for that end of the year teacher gift!
Alexa Westerfield a.k.a. Swelldesigner
Swelldesigner finds some colorful inspiration by Wrecking her Journal!
Blisstree Arts
Cyndi's done a round-up of all her image transfer tutorials.
Cathie Filian
Cathie Filian has lots of spring garden projects! Pop by her blog to learn how to recycle paint stir sticks into a garden planter, blend up fresh fruit smoothies, easily create wood burn garden markers and ideas for painting a garden set that is perfect for mom.
Craftside-A behind-the-scenes peek at a crafty world
Craftside has a call for entries: 1000 Artisan Textiles, a tutorial on how to upcycle an old promo charm with stamped polymer clay, fusing plastic bags from the soon to be released book: Green Guide for Artists, and two asymmetrical jewelry designs made from recycled elements.
Crafty Princess Diaries
More about YuDu – If you still aren't convinced after seeing Margot Potter's video on how to use this interesting contraption, then here is some more information for you to consider.
CraftyPod
Sister Diane is super-excited to launch her new ebook, Making a Great Blog: a Guide for Creative People. It's all about how to write and photograph compelling blog posts, and how to keep the inspiration flowing.