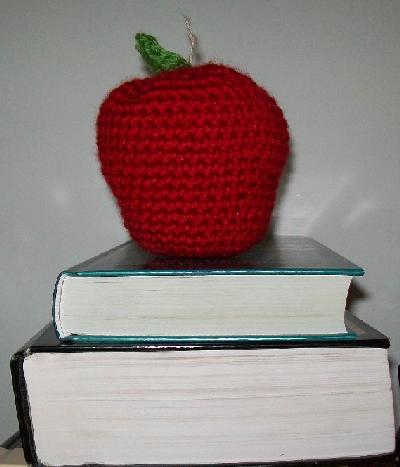 I'm back to the books soon. These last few days have me looking back wondering where the time went and wishing that I could have accomplished a little more, but at the same time, I have had a lot of fun. My crafting accomplishments include most recently hooking up with amigurumi (the apple above is from yet another Lion Brand Yarn freebie pattern); sewing some baby blankets and stitching hats/booties for a local hospital as well as making hats and scarves for another charity group in Nevada; and making a pretty good number of jewelry tutorials for my About.com Jewelry Making website.
As far as writing goes, as I said I've been working a lot on my About.com site both adding new content and doing some behind the scenes housecleaning, but other than that I've manage to get out a book proposal and make some progress on a fairly long fiction piece I've been working on for way too many years. I'm still waiting to hear a ya or nay on the proposal, but I at least I did get another one written, and to top it off, it's not a jewelry book so it feels good to branch out a little into other craft writing, which I've been wanting to do for a long time. That alone is an accomplishment. I also had high hopes of finishing my fiction piece, but I added probably another 3,000 words to it, and I sort of had a break through idea for it the other day, so I'm seeing some progress, which I should be thankful for.
If I had to say there was one thing I wish I could have done it was more reading, or at least more of a certain kind of reading. Though there will be a skeleton crew when I return to school as far as my peers, inevitably the question will come up about what I've read. I'd like to be able to say that I read War and Peace and the complete works of Shakespeare while I was away, but I can't. While I did recently start A Pair of Blue Eyes
by Thomas Hardy (one of my favorite novelists), I'm far from finishing it. My only other literary reading included about a half dozen or so articles from some Jane Austen journals, which were interesting. The next best thing to reading Jane's work is to read about Jane's work.
Now, I have been reading; I'm always reading, but no big surprise, my summer reading so far has consisted of crafting books, all of which I've really enjoyed but don't see my colleagues having the same appreciation for them as I do. Still, for my craft readers I'll end this post with a few summer craft reading suggestions:

Metal mixing is super popular now in the jewelry world. You can find a review of this on my About.com site.
This is also reviewed on my site.
Yup, I reviewed this one too.
As far as non-jewelry craft books, I recommend these:
Technically flawed but very inspiring, this book will encourage you to pull out that sewing machine that's been stored in the back of your closet.
A very cool reference book that also has a few projects, I just got this a few days ago and am impressed so far.
A great little book, I often toss this in my purse when I know I'll be standing in line, like at the post office. So far, any time I've had a question, I've found it in here.