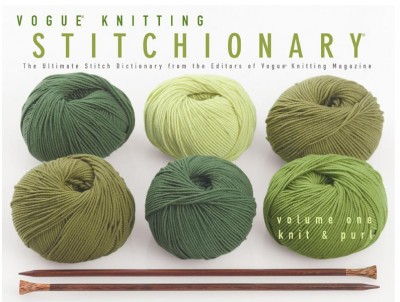 Vogue® Knitting Stitchionary® Volume One: Knit & Purl: The Ultimate Stitch Dictionary from the Editors of Vogue® Knitting Magazine (Vogue Knitting Stitchionary Series)
is the first volume in a series of knitting stitch books. It is published by Sixth and Spring Books. In the US, it retails for $19.95 and in Canada for $23.95.
As with most Vogue publications, this book is very visually appealing. They purposely used the same type of yarn throughout to make sure stitch definition and gauge was consistent, but even though it is all the same yarn in this book, different shades of green are used for each of the sections. The photographs of the swatches are clear, and generally speaking, the information is easy to find. To test it out, I looked up a few stitches I was interested in learning a little more about, and I had no trouble finding them.
The organization of the book starts from simple to more advanced, thus building on the level of difficulty. All the stitch patterns provided focus on using knit and purl in various combinations.
A stitch dictionary is really important for anyone serious about yarn crafting for a number of reasons. For those with little experience, it can be a helpful resource guide. For intermediate level knitters, this is a good refresher book, and of course, for advanced knitters who may want to attempt pattern writing and designing, a book like this is a must.
Keep in mind that this is a techniques driven book, so you will not find projects in here. However, you could adapt patterns using the stitches in this book. Another option is to make the swatches for practice and then stitch them all together for a beautiful afghan. If you have been thinking of adding a knitting stitch dictionary to your personal craft book library, this first volume is a good place to start.
(A review copy of this text was provided by the publisher.)