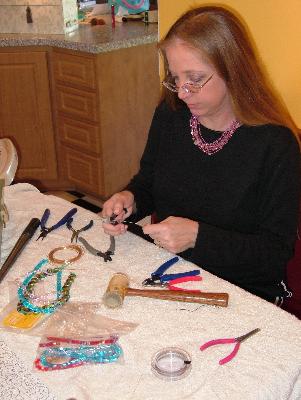 Recently, I have come across a number of sources discussing crafting as a profession. Over at the YarnCraft weblog, there's a podcast discussing how to sell your yarn crafts. Then I saw that Jennifer Perkins has a post on a similar topic as well as some information concerning a Crafty Business Seminar she will be running. Finally, I discovered that CraftyPod has a podcast about Crafting for Money vs. Passion.
As I listened and read these, I could really relate. While I still enjoy making jewelry, the approach I have since doing it as part of my living has changed from when I did it strictly as a hobby. In fact, even writing about jewelry making versus primarily selling finished jewelry is different. When I make jewelry now, everything is a potential project. I feel compelled to take notes and snap pictures as I work rather than just "play."
Compare this to crochet and sewing, two other crafts I'm pretty active with, and it's a totally different experience. When I crochet, I tend to do it in front of the TV in the evenings as a way to relax and not feel the urge to snack so much. It's my time to "chill," so the idea of selling a finished piece or writing up instructions never even come to mind. When I'm stitching something up in my sewing nook, I rarely take notes; I just do it, enjoy the experience.
Now this is not to say that I don't enjoy the experience of making jewelry, but my mind-set is totally different. Jewelry making is a job, a fun job but a job, and crochet and sewing are true hobbies that I do just for fun.
Anyway, listen/read the links I provided at the beginning of the post, and then come back here and give me your take on all of this. I am not saying one is a good thing versus a bad thing, but they are different experiences that I think are worth discussing and pondering.