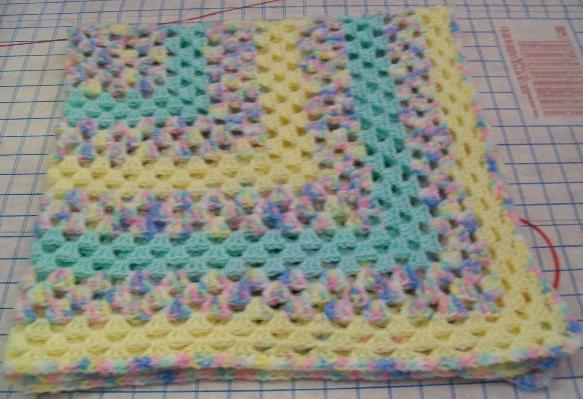 To give myself a break from baby hats for awhile but still have something baby-like to donate, I decided to make a super easy granny square baby blanket. Even baby blankets can take a while to crochet, but you have got to love the good old granny square pattern to make life easier. Here are the supplies I used:
I hook
1 skein of TLC Baby Amoire
1 skein of yellow Bernat Baby Yarn
1 skein of green Bernat Baby Yarn
I started my granny with 4 chain stitches before securing them into a loop using a slip stitch.
Then I made 7 rows using TLC yarn for the center square.
After that, I alternated with 3 rows of green, TLC, then yellow until I had two sections each of green and yellow, ending with a yellow section.
Finally, I used TLC to make a single crochet row to trim all around the blanket.
The final blanket measures about 36×33 inches, and it is super soft!