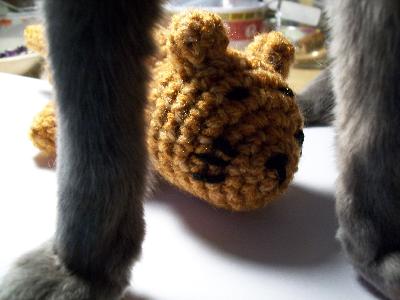 I was attempting to take some pictures of my latest amigurumi, but as you can see, Skimpy would have none of it! Why am I so fixated on a stuff cat when I can have the real thing? So you will have to wait for a better picture too. While you are waiting, take a look at this week's crafting links.
The Artful Crafter
Eileen shows you how to make a multi-strand fiber bracelet.

Stefanie Girard's Sweater Surgery
Drink Mermaids take the plunge into some silver paint and get transformed into some swimmingly fun necklaces inspired by the wonderfully innovative book- A Charming Exchange.
The Crochet Dude
Drew reviews the new Simplicty Rotary Cutting Maching – offers up a free crocheted project using fabric strips – and he's giving away a Rotary Cutting Machine to one lucky commenter!

The Impatient Crafter
Madge shows you how to make a quick and easy Altered Chinese Paper Lantern in her first post on Kid/Teen Crafts for I Love to Create!
Vickie Howell-Craft.Rock.Love
Check out Vickie's free pattern for a knitted lace, iPhone cozy!
About Family Crafts
I need your help! Be the first to submit a photo of this completed craft and be featured on the Family Crafts site!
Aileen's Musings
Your help is needed…Please take a moment to help make a difference We have a chance to get our ovarian cancer charity project on the cover of a northern CA magazine. Your vote is needed! The project benefits the Ovarian Cancer Research Fund. Deadline for voting is July 23rd so hurry and cast your vote!
Alexa Westerfield a.k.a. Swelldesigner
Alexa shares the mentall process behind creating a post on her swell craft blog
Craftside-A behind-the-scenes peek at a crafty world
Craftside's got a how-to's on bleaching photos and juxtaposing images, a mixed-media journal out of a wide variety of recycled materials and a video with Scatha G. Allison where she shows the incredible designs from her book Jean Therapy. Be sure to answer the day's questions to be entered to win a free book!
CraftyPod
SisterDiane is thrilled to unveil her new ebook, Weaving Un-Loomed: Simple Ways to Weave Cool Things.
Cross Stitch at About.com
Have fun trying out these new free Candlewicking patterns Connie's sharing. If you use one, send in a photo to show it off!
Mixed Media Artist
Using two very different book pages, you can create a found poem for an altered book…or just because!
Naughty Secretary Club
Jen shares clever and crafty uses for suitcases that have nothing to do with holding clothing. Side tables, laptop cases and portable craft studios oh my!