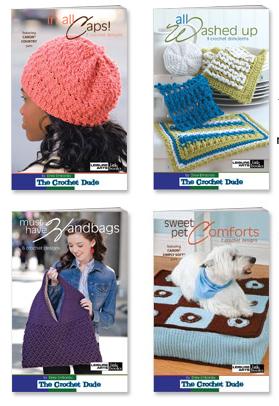 The Crochet Dude, Drew Emborsky, has four new crochet books recently published by Leisure Arts. While they are called "Little Books" by the publisher, I think size can be deceiving here because each 32 page book actually has a fair number of project in them, especially when you consider that they retail for only $3.95 each. I've seen just one pdf file project go for that much.
The In All Caps book includes 6 hat designs for women. I especially like the slouchy beret that's on the cover. Even if you aren't into hats much, there is a cute headband pattern that could keep your ears warm and not mess your hair up.
If you are into roomy totes and purses, then you'll want to check out Must Have Handbags. It includes 6 crocheted bag designs. A few of the bags, like the one pictured on the cover (the Hobo Tote), look like they'd work well as book bags.
All Washed Up includes 9 dishcloth patterns. These are perfect for anyone who is just learning to crochet and wants some very do-able projects. Though these have a lot of texture going on and were obviously designed for dishes, I don't see why some of these (like Put Your Heart Into It! or Real Men Do Dishes!) couldn't also make nice wash clothes. Add a fancy bar of soap, and you have a super easy gift idea.
Finally, Sweet Pet Comforts has some adorable projects for your favorite cat or dog. Of course, my cats and dogs think everything I crochet I'm making for them, but still, it is nice to actually make items just for them. They seem to appreciate my efforts more than some humans I've gifted crocheted items to! This book has 7 designs including a few pet beds and toys. I'm not sure if I'm sold on the Dog Toss project, but I've always had big dogs, and toys like this last about two seconds with them. However, the Catnip Toy looks like a winner for cats to me.
The most difficult thing with these little books is picking what project to start with first! I've been on a wash cloth kick lately, so I'm leaning towards that. However, I've been hording some organic yarn in dark blue that I think will make a perfect beret! I'll, of course, show my efforts here, and I'd love to hear from anyone who has already tackled some of these projects.