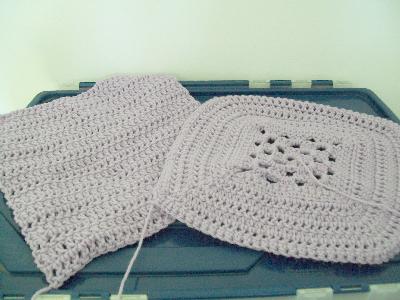 One of my Tweeps was asking to see some of the numerous crochet squares I make for the Homemade Blessings group, who by the way was mentioned recently in an article written by The Crochet Dude for Crochet Today.
As you can see, my squares are far from fancy because basically I consider them my "no brainer" crochet projects. I like to crochet in the evenings while watching TV, and after working all day, I want to work on something that doesn't necessary require a pattern. Normally, these are the types of squares I make. The one of the left is all double crochet. The one on the right is a mix of granny square, double crochet, and half-double crochet.
The squares pictured are made with Super Saver in lilac, but I also make a lot in red and blue since many of the ghans go to families who have lost loved ones in the service. Typically, I also use a fairly large hook, a K normally. So if I'm energetic enough, I can usually get a square done in a couple of evenings. Like the squares pictured, I tend to stick to each stitches like single, double, half-double, and granny squares. I have done a few using actual patterns, and I will probably do some more eventually, but right now, this is a good way for me to relax and still be a tiny bit productive at the same time.